Our universe still holds a lot of mysteries and there are many interesting facts about our universe which we've come to know. From knowing that the Earth is flat to uncountable objects in the universe, we have come long way lighting human possibilities in space. Although out of all the hunt it's concluded that the biggest ever object in the known universe are galaxies. And what could be more interesting than digging some mind-blowing facts about the largest galaxy yet, known by mankind? That's 'IC 1101'.
Here are some of the most interesting facts about the largest Galaxy, IC 1101:
1. Discovery
The discovery of IC 1101 is one of the most interesting facts about the largest galaxy itself. It was back in 1790 when a British astronomer Frederick William Herschel l found this amazing object in the space. But at that time he failed to realize that it's just not another nebulous feature but the independent galaxy. It must be due to lack of available equipment in hand. Perhaps, after a little more over 100 years since then, John Louis Emil Dreyer in 1985 finally recognized its existence.
2. The name IC 1101
As I told you earlier, IC 1101 wasn't considered as a galaxy at first. It is believed that universe is a giant cluster of the galaxies. These galaxies keep on amalgamating with outer galaxies to form new ones. At the same time they leave debris that wander around space without any specific path. They don't belong to any organised structure of Space. These free debris are known as Nebulae or star cluster. One of the mind blowing facts about the largest galaxy is that IC 1101 is the 1,101st such object to be found in space. Therefore, securing this place in Index Catalogue of Nebulae and star cluster. (Index Catalogue is IC in case you are confused.)
3. Size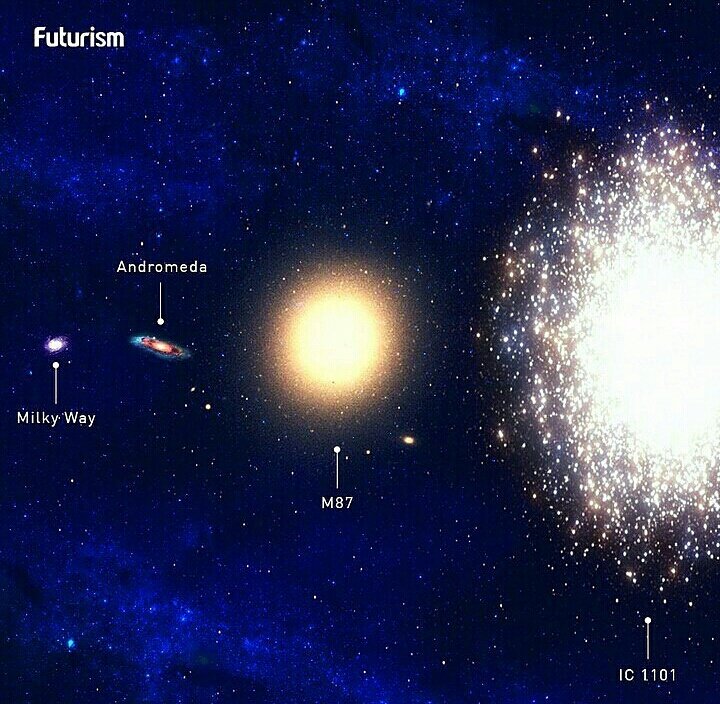 Well, talking about the facts about the largest galaxy, how can we miss about the size of IC 1101 galaxy? IC 1101 is amazingly six million light years in diameter. This is 60 times more than our own galaxy milky way!
It is made up 100 trillion stars, however, most of these are elusive dark matter.
4. Structure
There are only three types of galaxies known yet. Elliptical, spiral and irregular galaxies. As the name suggests they are named on their shapes. Elliptical galaxies are the largest among all. Meanwhile, IC 1101 has been the largest known elliptical galaxy till date. These galaxies are formed after several collisions with other galaxies. Therefore, one of the most fascinating facts about the largest galaxy is that IC 1101 must have lived up many collisions.
5. Location
One of the mind-blowing facts about the largest galaxy also includes that, 1.04 billion light years away from the Earth, IC 1101 is situated in the heart of Abell 2029 galaxy cluster. Whereas, it is part of the Virgo constellation. It is one of the most luminous thing ever found in space. Moreover, it is because of its luminous nature we are able to discover its existence from such a great distance.
6. Life of the

largest

galaxy
The color of galaxies tell their age. IC 1101 is golden yellow in shade. Now you should know that there are mainly two shades of galaxies. Blue galaxies like our milky way are young galaxies with lots of newborn stars whereas aged galaxies appear to tint yellow in the shade before they disappear. Therefore, we can conclude that the largest galaxy known to us is approaching death slowly now.
7. The Blackhole
Lastly in the list of mind-blowing facts about the largest galaxy is that it accompanies other large entities too. By now it is understood that the size of galaxies is directly linked to the size of its Blackhole. And so is the case with IC 1101. It has the largest known black hole at its center. There are many interesting facts about black holes. Just guess how powerful it actually is!
With all these

interesting

facts about the largest galaxy

(as known yet)

IC 1101, we expect further more discovery in this direction.
It may help in knowing our universe better.
Like us on Facebook
Follow us on Instagram