India definitely has this extra love for food. And this is what makes us all a part of India. In spite of having different cultures, believes and rituals, what keeps us combined and in unison is our love for food. We all have unique tastes, food, how they are prepared, how they are to be eaten but isn't this what we all look for? Cuisine that experiences millennia of traditions and cultural aspect is what makes the food in India even more fascinating. There are no boundaries to the food presentation that are served here. Be it a vegan or typical non-vegetarian, we have best Indian food items for everyone. From Kashmir to Kanyakumari, every food item is all the worth.
Here are the best Indian food items from all the parts of India!
1. Mutton Rogan Josh, Kashmir
Scenic beauty is not all that we love about Kashmir. Another reason for the indefinite love is that you'll find some best Indian food items here. The best amongst all their food is for sure this heaven for non-vegetarians. Yes, mutton rogan josh is the dish. Kashmiri's are famous for their non-vegetarian food items in India. But what is even more famous is this low-fat lamb dish they prepare with roasted onions and traditional spices and yogurt to complement. Try it with a naan or any other buttered chappati and you will crave for more.
2. Amritsari Kulcha, Punjab
If you ever travel to Punjab and specifically to Amritsar, then Amritsari kulcha at a desi Indian dhaba is a must. Trust me on this guys you'll find some of the best Indian food items in Amritsar. The food, flavor that you will experience in Punjab will leave you out of words. Some might say it is unhealthy but why would that matter if it tastes like heaven. This Kulcha is a specialty of Amritsar, not that they the kulcha has some secret magical recipe for it. But how they present it to you will make you yearn for more. This butter laden kulcha with a glass full of lassi is the perfect combination of your hunger whenever you are in Amritsar.
3. Dal Bati Churma, Rajasthan
This is the classic signature dish of Rajasthan, one of the best Indian food items, that has got an essence of the spices of Rajasthan in it. Wherever you go in Rajasthan you will definitely get food places that serve this dish. This classic dish is actually a collaboration of bati that is made in the deserts of Rajasthan served with dal which is lentil curry. To complete the dish they add churma to it. This churma is prepared by a mixture of wheat and jaggery which is grounded and roasted well before serving. This dish will let you embrace the flavors and spices of Rajasthan in the most exotic manner.
4. Khandvi, Gujarat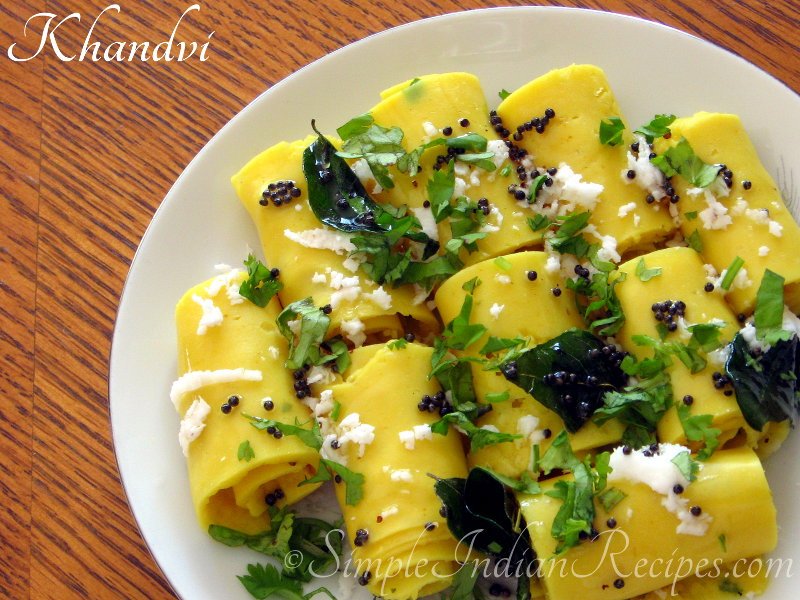 This Gujarati delectable Indian breakfast dish is definitely a treat to your taste buds. Though its name might sound a little weird, the taste is just divine. Layers of gram floor rolled in buttermilk and seasoned with those fascinating spices is all that it takes to make a perfect khandvi which is one of the best Indian food items. And the best part is you never get tired of it, these are so light on the stomach that you never get to know when you had a plate full of it. This is why you can have them as both your favorite evening snack and your oh -so-tasty breakfast.
5. Misal Paav, Maharashtra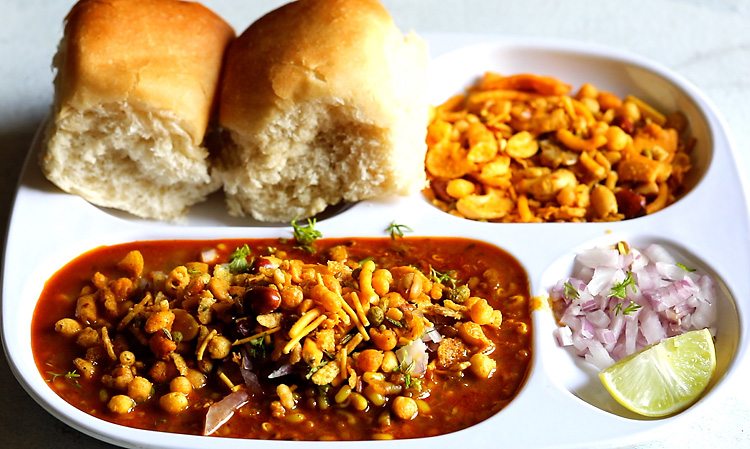 You must be familiar with Vada Pav, which is a worldwide popular dish that has its roots in Maharashtra. Misal pav is one of the favorite dishes of the Marathis and one of the best Indian food that'll make you lick your fingers. Though now the popularity of this street food dish of Maharashtra has spread to many other parts of India as well. This simple yet exotic dish is a must try whenever you visit Maharashtra. And if you're a street food lover then this is just for you. This spicy dish includes a combination of Paav bread that is served along with curry. This curry is prepared in a traditional manner with the use of Usal, pohay, finely chopped tomatoes, and onions. Also, now we have a large variety of this misal paav that you can thrive upon.
6. Puttu and Kadala Curry, Kerala
You'll find some of the best Indian food in Kerala as well. Puttu is a very famous dish of Kerala and is also the everyday breakfast for the residents of the state. Everything about this dish, right from the first look to the first bite is so tempting that you cannot resist eating it. This dish is a typical South-Indian dish that won't be found in other places. Puttu is actually cylindrical steamed rice cake cooked and served with coconut chutney. Usually, this is served with the kadala curry which is made from kale chana but at certain places you might find them served with grated coconut or ripe bananas.
7. Doi Maach, West Bengal
This state of maach and bhaat is obviously famous for its dishes that involve rice and fish. Bengalis have an irrevocable relationship with these two food items which are also their staple food. Amongst thousands of fish dishes, one of the most famous and best Indian food is Doi maach. The soft fleshy chunks, tenderly cooked in a blend of sweet and spicy flavors is what makes this dish mouth-watering. It tastes even better when served with plain rice. Alternatively, it is also cooked in yogurt with mild spices which tastes equally good.
8. Hyderabadi Biryani, Telangana
How is it possible to think of food in Hyderabad and not mentioning Hyderabadi Biryani. It is literally a treat to the taste buds for all those biryani lovers. Believe it or not, they can have this tempting food over breakfast, lunch and dinner as well. And even you must try this once before you die. Cooked with mutton or chicken with rich spices and flavors, this Hyderabadi biryani will blow your minds off. What makes it even more fascinating is the way it is prepared. This biryani is prepared in a steamed manner popularly and thus also known as dum ki biryani. Millions of daily consumers of Hyderabadi Biryani have made this dish one of the best Indian food items.
9. Sael Roti, Sikkim
Going towards North-east, Sael roti is one of the best Indian food items. Sael roti is a delicacy dish of the state of Sikkim. It is generally a home-made dish that has gained popularity over a few years. This dish is prepared by usage of rice dough or bread. It involved making of rings from this dough which are then deep fried until they get that red-brown tinge of color. This is also their famous festival dish which is prepared during Tihar. So, if you're planning a trip to Sikkim don't forget to try this awesome home-made dish.
10. Rasabali, Odisha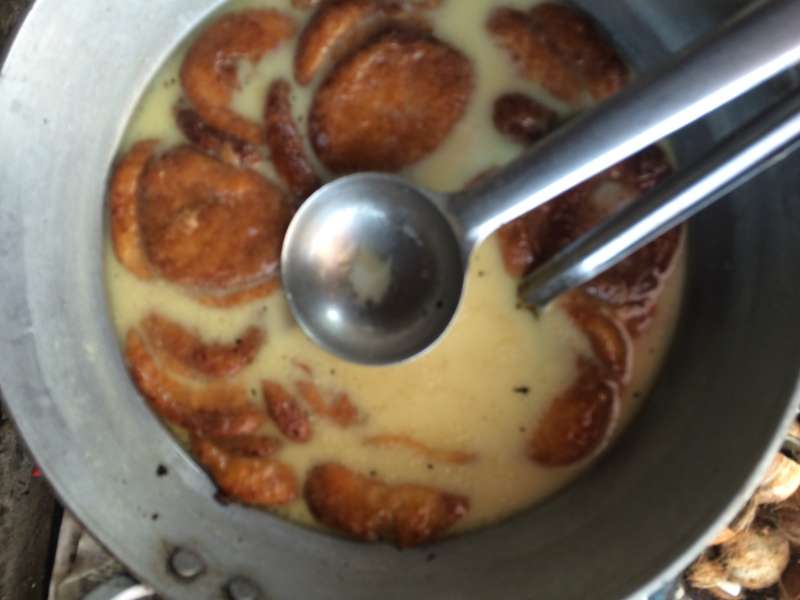 This sweet dish is the delicacy of the state of Odisha and is also served in the famous Jagganath temple as a part of the prasad. This rich in taste dish is prepared by making round flattened tikkis of paneer, semolina which is then soaked in rich condensed milk with cardamom powder in it.
Indian food culture is rich and is extremely popular worldwide. These were just few of the many best Indian food dishes that can make you fall in love with food again and again!
Like us on Facebook
Follow us on Instagram