Bali is known as the Island of Gods. The beautiful background of Bali stakes a claim to be paradise on Earth. It is a house of world-class surfing and diving. Besides being culturally rich, Bali also has beautiful landscapes and sandy beaches. However, Bali is becoming increasingly popular for surfing spots. We've curated a list of best surfing spots in Bali specially for you!
Check out the best surfing spots in Bali!
1. Kuta Beach
This is the first surfer's beach and it is one of the best surfing spots in Bali, especially for learners. It has a long sandy stretch. In spite of being safe for learners, the current gets intense in the afternoon. The Kuta beach remains fully booked during the holiday season of Christmas and New year. It also has a good accommodation and fine dining restaurants.
2. Echo Beach
Locally known as Pantai Batu Bolong, this beach is known for sunset surfs. This beach houses abundant villas and resorts with five-star facilities. One of the best surfing spots in Bali, the coastline of the Echo beach comprises of black sand beaches.
3. Padang Padang
The accessibility to this beach makes it one of the best surfing spots in Bali. It is locally known as Pantai Labuan Sait. This beach hosts International surfing events like the Rip Curl Cup Padang Padang.
4. Impossibles
As the name suggests, it is one of the toughest surfing spots due to irregular rock formations. It is one of the best surfing spots in Bali, especially for advance surfers.
5. Green Bowl
This beach is among the most secluded beaches. As the beach lies under a verdant cliff, and because of the steep descend, a climb is required. Therefore, due to this reason, this beach attracts only die-hard surfers and adventurers.
6. Uluwatu
Besides being famous for top waves and surfing experience, this beach is also famous for its beautiful location. You need to keep a track of the tidal waves as they keep on changing. However, it generally remains crowded during low waves.
7. Suluban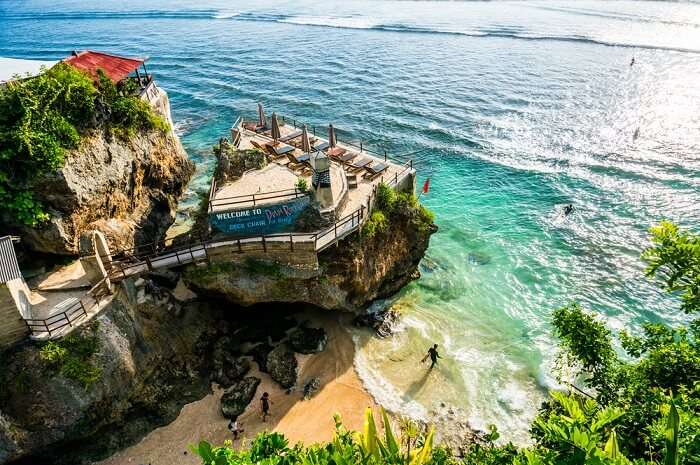 Nicknamed as 'Blue Point', Suluban is a magnificent narrow beach. Getting to the beach is in itself an adventure because you need to go down through the steep staircase. Also, there lies a rocky opening to this beach. What attracts surfers to this beach is the consistent barrels.
When we talk about beaches, do not forget to check out the best beach in the world, Ipanema beach in Rio de Janeiro.
Like us on Facebook
Follow us on Instagram