(Political satire) 2017 is the glorious age of politics. Politics has never before been in the spotlight like this. Everything that happens is followed closely by a reality television show. The people involved have an unprecedented impact on the course of history. Unfortunately, many decide to stick to the wrong side of history. 2017 is also the age of self-deprecating humor. A meme-ing age where serious and troubling problems are reduced to hard lining jokes and trivialized.
This amalgamation sets up a perfect stage for the age of Political Satire. Political satire is satire that specializes in gaining entertainment from politics. And with aid of the First Amendment, the political Satirists are more brazen than ever before. Call it the era of Trump or just about time for humans to finally get fed up with the callous dance of power that happens in the halls of our parliament.
It's about time that we stopped sitting at the edge of your seats paralyzed with anxiety and instead take some to enjoy the turn of events instead.
Political Satire permeates through many mediums of the day. Television, Professional Dailies, less professional online blogs: there seem to be no limits that are beyond their reach.
From shows like The Daily Show and the Weekend Update on SNL that satirize news programs to Late Night hosts like Stephen Colbert and John Oliver who take time to humorously breakdown the political nuances. From comic strips on the New York Times to Comedy Central Roasts: politicians have to brace for everything. The fine line of Political Satire is often misunderstood by many as evident from instances where many people involved in these satirical forms are threatened for their life.
Especially in third world countries where the Freedom Of Speech is not as strong and firm, Political Satire can be considered as a dangerous profession. It doesn't have to be so. This is mainly due to ignorance and lack of understanding of the concept of satire.
Here is a list that will enrich and entertain you with the whole world of political satire:
White House Correspondents Dinner
If one must truly understand the spirit of political satire and its reception by the attackers, look no further than the dozens of roasts from WHCA on YouTube. These often trend for months after the actual performance. WHCA is an event hosted by Washington politicos, journalists representing all forms of media from CNN to Buzzfeed and other distinguished members of the media. Here, a guest satirist often spends sometime roasting everyone present at the event followed by same by The President himself. It is indeed the biggest night of political satire.
Stephen Colbert
Colbert was originally popular for playing a Political Pundit who was "passionate, well-meaning but misinformed". In his show The Colbert Report, he satirized opinionated journalism in the field of politics. His tongue is often regarded as much fear in Washington Politics. You do not want to be at the butt of Colbert's roasts. Recently, he has taken up the position if a respectable Late Night host and has brought politics to bed with his, honestly, cutting review of Trump. In one of his roasts, he was so hard on Trump that there was an uproar.
The Hashtags #FireColbert and #CancelColbert have trended many a time and most of his monologues receive a steady audience with many of his videos reaching more than 10 Million views on YouTube.
In his White House Correspondents dinner performance he roasted President Bush until the man was red in his face. It was touted as one of the ballsiest stand-up routines ever.
John Oliver
John Oliver has brought informative shows to a whole new level of entertainment. With his politely cutting roasts to his humorously dangerous exposures, no one is free from John Oliver's satire. He is often at the receiving end of many lawsuits and has alienated many of the power players across the world. He is known for his 20 minute long monologues on various issues that are wrapped in-jokes but deliver an urgent message of reform.
Trevor Noah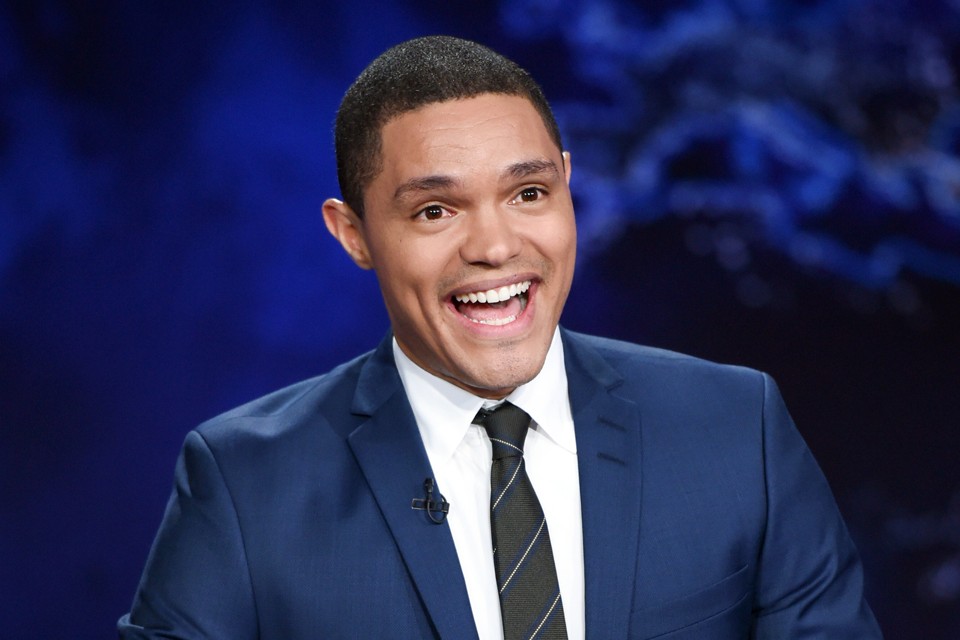 This stand-up comic and late night host is fairly new to the political satire scene but his calm collected yet humorous take on Trump and his administration is highly effective in exposing the futility of all the political acrobatics. His stand up routines that frequently involves satires of politicians from across the globe as well as historical superpowers like the colonizing Britain have a firm fan following. His book: Born A Crime speaks of his upbringing as an illegal human in the apartheid times. This funny man has the power to raise up to the standards of a political satire veteran like Jon Stewart.
Samantha Bee
Although one of the very few women in this field, Samantha Bee has no inhibitions. She is often more sharp than her subdued male counterparts. She holds firm to her points and is known for her bold point by point take-down of political rhetoric. Still an emerging host, Samantha Bee managed to grab eyes when she hosted an Alternative White House Correspondents Dinner. When Donald Trump refused to attend the 2017 correspondents dinner: unable to make jokes at his own expense.
While it is widely accepted in The United States, it is not the same everywhere across the world. Noting even like Charlie Hebdo where there was a shooting as they printed undesirable satirical cartoons. Many are arrested especially in the middle east for daring to make jokes at the expense of a leader. They are often met with public outrage, arrests, and much more.
If a political satirist is not free to perform in a country, then the country has failed in strengthening its basic Freedom of Speech. And is hence disloyal to basic human rights.
We must all open up to the colorful and entertaining world of political satire. Both to have a good laugh and also to remind each other of the pressing matters that often slip by our notice.
You might also like the following posts:
Like us on Facebook
Follow us on Instagram