Luxury is an exceptional feeling of comfort whereas, airlines are sliver birds gliding right between the clouds. Same use to be felt while experiencing these luxurious airlines – 'Truly Heaven.' Here to shortlist top luxurious airlines in the world we peek at the Startrax awards which are believed to be the Oscar of Airlines. Their process to get the result is fairly transparent and the customer based so there is no chance of foul play. Moreover, reliability on these airlines increases by viewing their track records. They all managed to secure decent rankings in a decade. And assures to ace for betterment.
So let's get into

Startrax

's latest realized list of top luxurious airlines in the world.

 Have a look at their amenities and get a brief overview of them.

Here we go!
1. Etihad Airways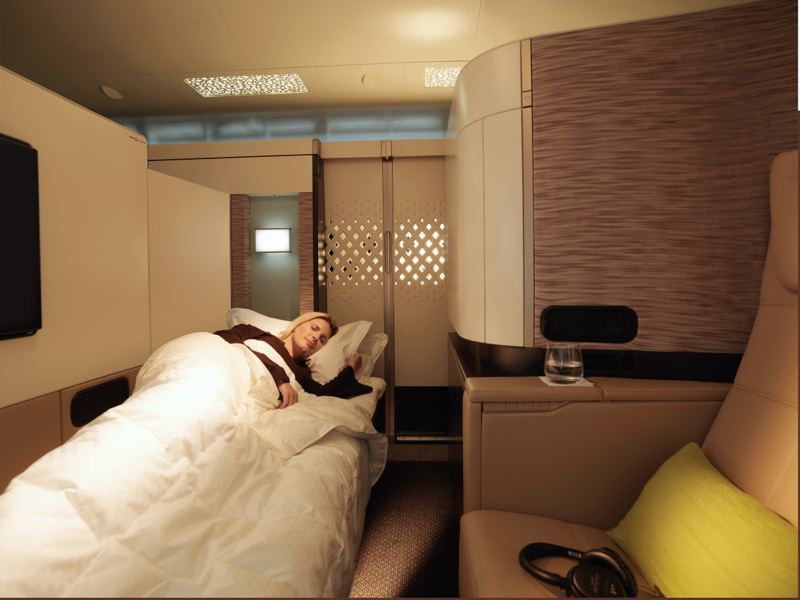 This airline has two options for offering its luxury services as first apartment and first suite. The first apartment is one of its kind services by any airline till date. Whereas a First suite is the business class of Etihad. 
Let's go through similarities first. In both, you have unlimited access to food anytime on the flight. There is a seven-course dining experience by the courtesy of an in-flight chef for an exclusive dining gala. Etihad also offers chauffeur facility to its first class passengers on demand. And let's not forget their essential amenities which actually are more than essential. They have a huge beautiful lounge which ranks Third in Best of World's Airlines Lounges. And yes forgot to mention they are World's Best Airlines Catering provider as per the survey. Etihad Airways is the most expensive airlines in the world.
Let's dig in their distinctions.
The first suite- As I told you earlier this is a business class section of Etihad where you will get a comfortable leather seat which is convertible to a 6-feet 8-inch fully flat bed. It also has a personal wardrobe and refreshment cabinet. And of course, the ticket of the first suit is less expensive than that of the first apartment
First Apartment- This is a very innovative idea of giving the feel of an apartment to passengers. You won't feel like you are flying. Here they provide you 3 complete rooms where they have a wide armchair and a separate 6-foot 10-inch fully flat bed accompanied by a walk around space in one. Then there is a vanity unit where you can change into complementary loungewear and use full-length wardrobe to hang your suits. It is furnished with a makeup mirror perimeter by lights. Etihad also provides marble finished bathrooms exclusively for you fitted with amenities. This sums up none less than a royal feel.
2. The Emirates
The list of top luxurious airlines in the world is incomplete without 'The Emirates'. This airline is known for its explicit services. Emirates has banged award for Best First Class Comfort Amenities at Skytrax 2017. There you are provided with organic skincare range so you can keep your skin at its best. Additionally, they have come up with this unique product Hydra Active Microcapsule loungewear which hydrates skin during flight. Emirates luxury airlines provides imitated sheepskin blanket, seats convertible to fully flat bed With mattress. There be food on a call like whenever you like whatever you want. In fact, they offer a personal mini bar and shower spa in-flight too. It has 5th best Catering and lounge in the world and it is a top entrant in the list of 10 most expensive flights in the world.
3. Lufthansa
Where Emirates are awarded for having the best amenities, Lufthansa is not much far behind them. They have equipped their cabins with World's First Air Humidifiers to provide moisturize filtered oxygen to inhale.
They have roomy ambiance with the automated dividing wall for extra privacy. An on-demand chauffeur is ready to serve at your doorsteps and your appetite is only going to increase in this flight as they are awarded as 2nd Best First Class Airlines Catering. In fact, passengers have voted them as World's Best Business Class Airlines this year. They have 2nd Best Airline Lounge at Frankfort. 
4. Air France Airlines
At number 4 in the list of top luxurious airlines in the world, we have, Air France. Air France was awarded Best First Class Amenities previous year. There are convertible seats to the bed of size 6 feet 8inch (slightly shorter than mention above). Furthermore, the catch is that the bed are accompanied by a form mattress that assures best of your snooze. Personal coat service, an abundance of storage space for belongings, reading lamp and curtains for privacy are some special add-on in their service.
Moreover, they have World's 7th Best Airlines Lounge and Catering Service this year. Your appetite will be taken care by renowned Michelin-starred French chef Daniel Boulud on flights departing from the U.S.
5. Singapore Airlines
Standing 5th in the list of top Luxurious Airlines in the world and a top entrant in the list of best airlines in the world, this airline is the only one in this industry to provide Double bed at the height of 4,000 feet and around till date. It has a fairly lit room with a separate couch to loosen up. You will be given Givenchy designed Pajama and Ferragamo toiletry kit. Their Catering Service stands 4th in world airlines rankings. With personalized experience and service on demand, Singapore Airlines offers great comfort by well-groomed attendants.
6. ANA (All Nippon Airlines)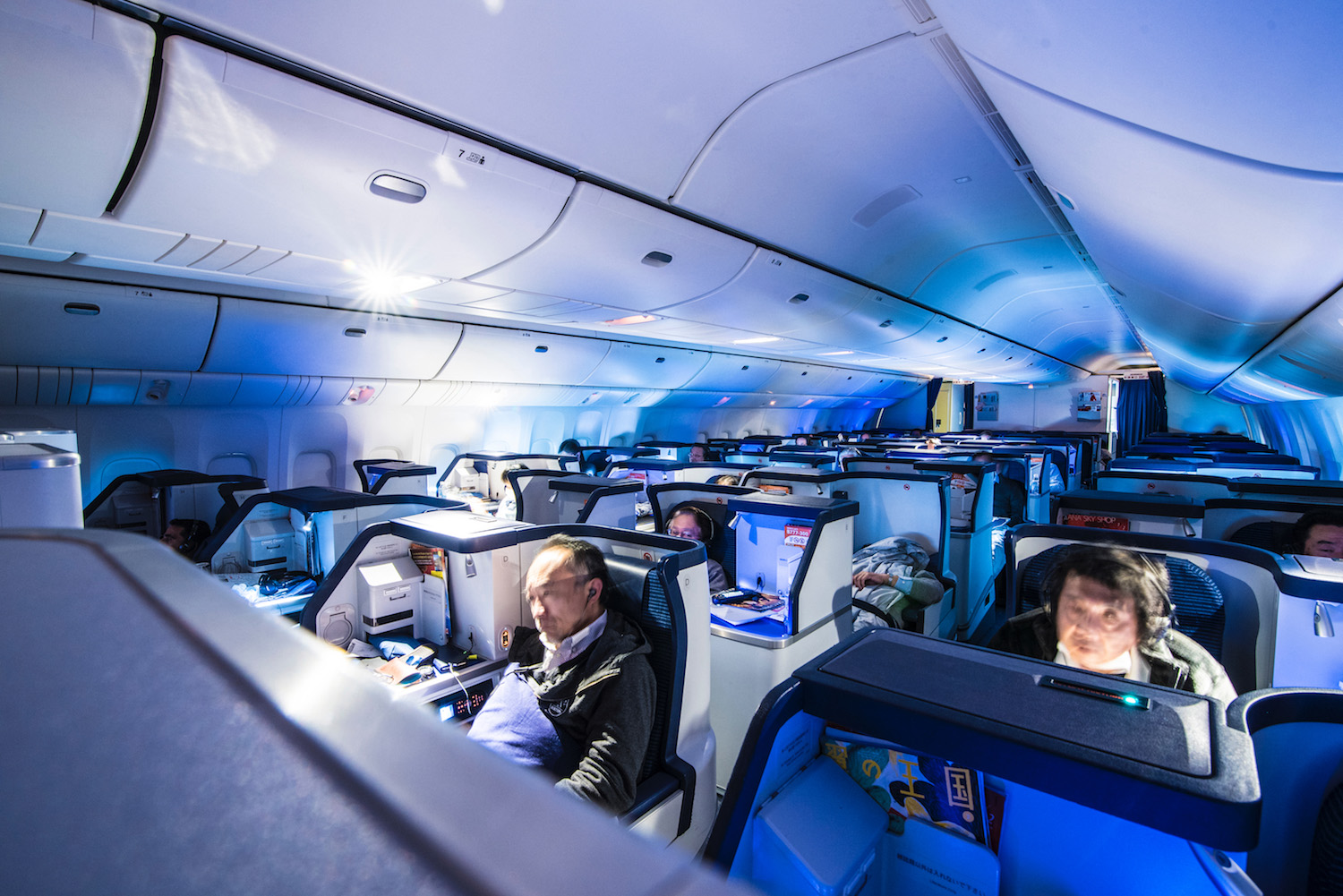 Their tagline says 'Inspire by Japan'. And they have kept their words quite well while designing their aircraft arena. It is clean, elegant and simple as Japanese. Their first class suit has 8 square cabins each for a person. It is furnished with Seat cum Bed and for privacy, the Half partition is given. There is a personal high-quality HD television for entertainment. And what else when they serve 10-course "kaiseki" cuisine, 26 varieties of beverages from a nice collection of international wines. The dining area is touched with picturing landscape. Amenity kit and other skin care product are complimentary. This is a nice means to make way for Japan more smoothing. 
7. Cathay Pacific Airlines
This airline is on the list of the 10 top luxurious airlines in the world for a while now. While in the previous year they bagged 4th position in the same list and was world's 5th best lounge. They have maintained their best cabin cleanliness award this year too.
Decorated Orchids in the cabin gives it a natural touch. Cathay uses studio CX entertainment system. They have good Caviar service for dining too. Altogether it's a pleasing experience serving best of hospitality. 
8. Qatar Airways
This Arabian airline provides pretty nice amenities kit. The PJ's by them are way comfortable but their fashion sense is nil. With a 20-inch television screen and a smartphone like remote you defiantly won't feel bored for a moment. Moreover, they have a camera outside the plane which enables you to see what's happening around the plane. A walk around the area to pull off your muscles or just to take some time off the seat for a change. Unlimited food is something offered here too. In fact, they are 6th in First class Airlines Catering services. You have a side partition for extra privacy.
They have a mesmerizing lounge at Al Safwa which is currently World's most luxurious lounge. Thus, it is currently one of the top luxurious airlines in the world.
9. Japan Air
Japan Air has a classy first class lounge. While there are regular 8-inch cabins to rest but they serve an amazing Caviar Service. They provide a moisturizing mask to rejuvenate our skin. Moreover, they have such a pleasant staff that makes you feel pampered. There is free WiFi for first class passengers which is not available in most of the airlines yet. Hence, making this airline one of the best airlines.
10. Qantas Airways
At number 10 in the list of top luxurious airlines in the world, we have Qantas Airlines. This Aussie airline owns the place of the 4th best lounge in the world. They are also known as 'The flying kangaroo'. They are the only one to provide first-class passengers a Chauffeur service free on flights between Australia, Dubai, and London. Whereas, they have dedicated check-in area for first class passengers at Emirates terminal.
Qantas is considered as World's Safest airlines as they hadn't had a fatal crash yet, since 1951. Like Qatar, they too have a camera at the tail of an airplane for giving passengers a better view of outside the plane. Whereas, the area within a perimeter of a cabin makes travel as personalized as traveling in a personal jet.
Concluding this we can say that these airbuses give you a royal feel with tender care and

spic

and span delivery of service. There are slight differences which I discussed above but they

all

aimed the same everlasting experience you are

looking for

.

 Finally, we can say that traveling in these top luxurious airlines in the world are dreams we live at a height of around 4,000 feet.
Like us on Facebook
Follow us on Instagram